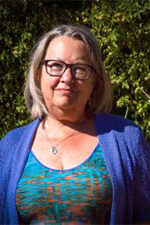 Joan (she/her) is a Spiritual Director and Supervisor who lives in Canada. Her interest and training in spiritual companionship began at The Haden Institute. She has an active spiritual direction and supervision practice with clients in Canada, the USA and the UK. Joan became a supervision educator by chance*. Her belief in the benefits of supervision for all spiritual directors, brought her to a training course offered by Spiritual Directors International. The facilitator of this course, Lucy Abbott Tucker, has become Joan's mentor and teacher. Now Joan offers accessible and affordable virtual workshops based on these teachings (resource: Spiritual Direction Supervision: Principals, Practices; Storytelling).
Joan also offers virtual presentations on Spiritual Trauma (SDI ENGAGE 2022), Spiritual Direction with the 2SLGBTQ+ Community, Dreams – What They Mean, and The Labyrinth – Walking Your Path.
Married to Elizabeth and with two adult sons, Joan identifies as a member of the 2SLGBTQ+ community. Joan continues to marvel at the ways her life unfolds in this beautiful ministry of spiritual direction.
*synchronicity
Laura Baber
•
Presenter, Program Consultant
Laura received her M.Div. from Asbury Theological Seminary, Wilmore, Kentucky; a B.A in English Literature from Randolph-Macon Woman's College, and completed the Ministry of Spiritual Direction Program through the Center for Spiritual Formation in 1999. She has worked full time vocationally as a spiritual director since 2007. Laura is a Deacon in the United Methodist Church and offers pastoral care at St. Mark's United Methodist Church in Ocala, Florida where she lives with her husband John Esbenshade.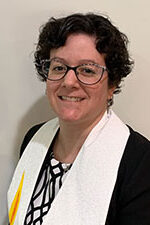 Michelle Bodle is an ordained elder in the United Methodist Church and a spiritual director. She graduated in 2022 with her DMin from Wesley Theological Seminary in Church Leadership, where her project focused on the impact of group spiritual direction on young clergywomen. She holds a certification in Spiritual Formation from Drew Theological School (2012), an MDiv from Drew Theological School (2011), and a BA from Houghton College (2007). Her Spiritual Direction Training was through the Center for Spiritual Formation.
A graduate of the Ministry of Spiritual Direction program, Greg is an Episcopal priest serving a parish in the Diocese of Central Florida. He received his ministry education from Asbury Theological Seminary with a Master of Arts in Biblical Studies and Gordon-Conwell Theological Seminary with a Certificate in Anglican Studies. Prior to his seminary formation, Greg worked in corporate security management and served over nine years in the U.S. Navy as an enlisted aviator. Greg has a heart for spiritual leaders, particularly clergy, and seeks to journey alongside them providing spiritual care and companionship in an often difficult and lonely vocation. He, his wife and three sons live in Orlando, FL.
I live with my spouse and 4 cats in Winter Garden, FL. I love good food, good coffee, and books. I believe deeply that creating intentional space for people to come and rest and be nourished by God with a sacred companion is one of the deepest gift that we can offer another. The movement of the Holy Spirit within the context of Spiritual Direction has changed my life and deeply healed my soul. It has shaped/reshaped the lenses by which I view God, myself, and others and is the reason that I feel so deeply drawn and called to this way of life and journeying with others.
Russell Hart
•
Director Emeritus, Presenter
Russell has been a ministerial member of the Susquehanna Conference of the United Methodist Church for over fifty years, having served parishes in Three Springs, Altoona, Harrisburg and Red Lion, PA. In 1995 he became Center Director of the Center for Spiritual Formation, retiring in 2017.
He received a Ph. B. from the University of North Dakota in 1966, an M. Div. from Wesley Theological Seminary, in 1970 and a D. Min. from United Theological Seminary in 1979. In 1984 he received a call to become an iconographer and in 1991 received instruction at l'Ecole Russe de St. Georges in Meudon, France.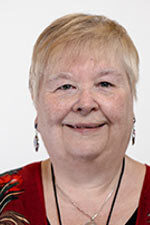 Kathy Harvey Nelson
•
Director Emeritus, Presenter
Kathy completed the MSD program of the Center for Spiritual Formation in 2006. She came to the program because she was spiritually depleted after a year of pastoral ministry; she knew that something was missing from her faith walk, which turned out to be a deep, intentional, non-negotiable, personal, committed relationship with God! She was so busy "doing things for God" as a pastor that she forgot how important it is to just "be with God." Her entire understanding of God and who she is in God changed, and she never has regretted a moment of the time that she's "wasted" spending time with God instead of busily rushing through life!
Kathy graduated from Lancaster Theological Seminary (MDiv, 2003; DMin, 2019) and currently is the Coordinator of the Ministerial Studies program for which she teaches a six-week section on Spiritual Formation. She has served two congregations over the years and served as the Director of Continuing Education at Lancaster Theological Seminary.  Kathy served four years as the Director of The Center for Spiritual Formation, having retired June 30, 2021. Her life is blessed by husband, Hill, who is a Professor of Art History with Penn State, York; two adult children; a turtle, kitty, and one very spoiled pup named Eva (who is the star of her own book, written by Kathy and illustrated by her husband: Eva: The Perfect Little Puppy). Kathy loves to read, craft and travel or spend time visiting and chatting with friends.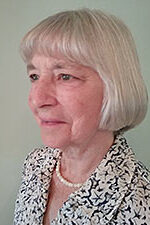 Deborah grew up in Pennsylvania and attended Clarion State College (now Clarion University).  She holds a Master of Divinity degree from Lancaster Theological Seminary in Lancaster PA, and a Doctor of Ministry degree from Wesley Theological Seminary in Washington DC.  She has served as pastor of churches in Central Pennsylvania and Northern New York as well as serving as District Superintendent of the Harrisburg District in Pennsyvania.  She retired as Lead Pastor of Fishing Creek Salem United Methodist Church in Etters Pa in 2019.  She has served on the Board of the Center for Spiritual Formation since its founding.  She has graduated from the Ministry of Spiritual Direction and currently provides Spiritual Direction, accepts invitations to do guest preaching, and enjoys providing childcare for her 3 year old grandson.  Deborah is married to Randall and the mother of adult children Forrest and Joanna.
Chuck is originally from Northeast PA and attended Lycoming College in Williamsport, PA, where he received degrees in Music and Religion. His first job was as organist at his home church at the age of 14, and he has played every Sunday morning since then. After a few years in the corporate world, he has been in full time ministry for the last 30+ years, serving in worship arts, Christian education, and administrative roles. The goal of his ministry is to provide opportunities and administrative support for church members as they develop and use their skills and talents in the life and ministry of the church.
After completing the MSD program with the Center of Spiritual Formation, he has discovered a passion for group direction and exploring new ways to include spiritual direction in the life and ministry of a local church.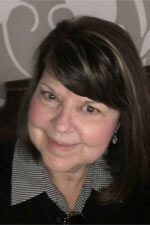 Beth Knight holds a master's degree in Pastoral Counseling from Asbury Theological Seminary. She is a Commissioned Ecumenical Minister through Federation of Christian Ministries and a seasoned Spiritual Director of 17+ years. Beth received her Spiritual Director's Certificate through training at Holy Spirit Center of Anchorage, AK (2005) and a Certificate in Supervision of Spiritual Directors through Audire' School of Spiritual Direction (2019) in Orlando, FL. She also is a trained Chaplain via several units of CPE with both VITAS Hospice and Florida AdventHealth. Beth also is a certified Conscious Aging ® facilitator through Institute of Noetic Sciences (IONS).
Dedicated to one-to-one spiritual support processes, discernment, clergy/chaplain care, missionary debriefing, supervision and retreat/workshop ministry, Beth uses the affirming and transformational classic art of spiritual direction and eclectic pastoral counseling to encourage and support the positive health, identity and deepening of a person's spirituality. Beth serves through the healing art of contemplative deep listening, evocative questions, Ignatian imaginative prayer, Examen questions, and reflective conversation. Beth learned retreat ministry via SD peers in Alaska and subsequently has been offering retreats for 20 years. She is a contemplative and new monastic, and brings appreciation for these ways of being into her own life and in spiritual direction and pastoral counseling sessions.
Beth is affiliated with the following professional and spiritual organizations: Spiritual Directors International (SDI); Association of Clinical Pastoral Education (ACPE); Federation of Christian Ministries (FCM); Shade and Fresh Water Ministry UMC FL; Peer SD Supervision Audire' Orlando; Central Florida Psychological Consultants; Institute of Noetic Sciences (IONS), serves on the Vestry of Saint Matthias Episcopal Church, Clermont FL and also serves on the Wisdom Council for the Light House Community, a women's contemplative online community.
Having lived in Anchorage, Alaska for 19 years, Beth now lives in Clermont, FL, since 2010. Married to Gordon (37 years), they have one daughter (married), three grand-children whom she adores and is active in their care, and one Labrador grand-dog. She is a writer of poetry and is currently working on compiling a lifelong collection of original work as a self-published Christmas offering for friends and family. She loves spending time with family, outdoor walks, the smell of pine trees, butterflies, labyrinth prayer walking and circle gatherings with other spiritual companions. Two of her favorite books are: Let Your Life Speak by Parker Palmer and To Bless the Space Between Us by John O'Donohue.
I am an ordained United Methodist deacon, yoga teacher, spiritual director, and outdoor adventure lover. I first began sensing a call to ministry when I was in high school, while backpacking the trails of the Pecos Wilderness of northern New Mexico. Since that time, I have encountered the presence of God in many ways and places, both traditional and nontraditional: in the tones of a pipe organ; in the prickles of a cactus; in the presence of the gathered community; in a heart-to-heart conversation with a "soul friend."
Throughout my life of faith, I have discovered that worship, for me, feels most authentic when it is "embodied" and "experiential" – when we can bring the fullness of who we are into relationship and connection with other people and with God. I currently serve as the founder and director of Sacred SoulScapes, a ministry that intentionally weaves together hiking and the outdoors, yoga, and spiritual direction, as a way to invite all people into an embodied, sacred conversation with the divine.
I am married to David, a United Methodist pastor who serves as a hospital chaplain, and have two children – Samuel, age 11, and Julia, age 7.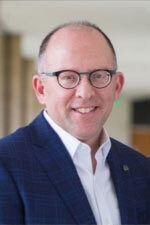 Dr. David Mellott became the seventh President of Christian Theological Seminary in 2019. Prior to this position he was Vice President of Academic Affairs and Dean of Lancaster Theological Seminary, where he had been a member of the faculty since June 2005. He has taught in masters' and doctoral programs, including courses in pastoral ministry, queer theology, sacramentology, worship, Roman Catholicism, philosophy, and spiritual formation. Dr. Mellott is also a spiritual director and retreat director. He has led retreats throughout the United States and in Central Europe. Prior to his doctoral studies, Dr. Mellott was a residential faculty member and coordinator of worship at St. Mary's Seminary & University in Baltimore, MD from 1994-1997. Originally ordained a Roman Catholic priest in 1992, Dr. Mellott is now ordained in the United Church of Christ. His husband is the Rev. Lance Mullins, who is also ordained in the United Church of Christ.
Kathy Milans is a KY Licensed Pastoral Counselor, Spiritual Director, and host at Sanctuary Cabin. She lives on the Kentucky River in Wilmore, KY with her husband, Steve, Ellie the black lab, Penny the Comfort Retriever, and Zoe the Greyhound. When not serving in a professional capacity, Kathy can be found kayaking, weaving wall tapestries, creating alcohol ink tile coasters, gardening, or reading. As an older seasoned woman, she "gets" Psalm 16:11, "You make known to me the path of life; you will fill me with joy in your presence, with eternal pleasures at your right hand." As a spiritual director she finds great joy in accompanying others on their path of life.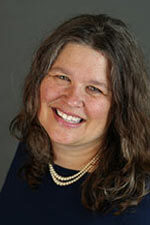 Kimberly received her Master of Social Work (MSW) from Temple University (2014) and a B.S. in Environmental Forest Biology from the State University of New York (1992). She is a Licensed Social Worker (LSW).
She blends her personal experience as an adult school shooting survivor with her professional training as a social worker and spiritual director. In 2008 she completed the Center for Spiritual Formation's Ministry for Spiritual Direction. Increasing awareness and providing pre education about school disaster planning, trauma, self-care and mental health are her primary focus.
She currently provides mental health therapy in an outpatient setting.
Susan is a licensed Marriage and Family Therapist in the Shippensburg/Chambersburg area. She earned her Master of Arts in Marriage and Family Therapy and Master of Divinity degrees from Evangelical Theological Seminary. She trained with the Center for Spiritual Formation as a spiritual director and recently became a health coach. Her private practice focuses on holistic healing – mind, body, spirit, and community.
Susan leads workshops and seminars on a variety of health topics, including healthy relationships and the intersection of physical, emotional, and spiritual health.
Susan formerly served as a United Methodist pastor in the Susquehanna Conference and still enjoys preaching and teaching in local churches.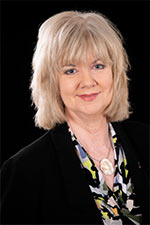 Rhonda Strouse
•
Center Director, Presenter
Committed to helping others be successful in their life and work adventures, Rhonda is in her "second act" as she combines her two passions as leadership consultant and spiritual director. Dedicated to Strouse & Associates, Rhonda is a partner with Wiley Publishing, working with leadership assessment emphasizing succession planning and talent management along with leadership coaching, facilitation, and team development initiatives. Her active interest in pursuing spiritual direction began in 2016, eventually culminating in her completing the MSD program in 2019 through the Center for Spiritual Formation. She is also privileged to serve as Pastoral Care Coordinator for Centenary UMC (Lexington, KY) where she is dedicated to working with individuals and groups focusing on crisis response and issues related to grief and loss.
Prior to her "second act" career life, Rhonda had a long professional career in higher education where she served as an executive administrator and instructor in leadership and student development, leading a broad portfolio of student engagement programs and staff teams. She earned her Masters degree in Adult and Higher Education with an emphasis in Counseling from Morehead State University, and has served and led with many leadership special projects, professional and community boards, and committees. Rhonda enjoys spending concerted time toward writing, speaking, and partnering with others to develop and lift up those around her to meet with personal and professional success. As a first-year instructor with MSD, she is excited to journey with the year one cohort – walking together in knowing and practicing in the presence of God, and exploring the theology of spiritual direction.
Cynthia Willis
•
Sacred Integration Coordinator
Cynthia has done many things throughout her life including enriching the supportive care and worship for those in local nursing facilities, and coordinating a very active lay ministry to meet these needs as well as offer communion to the congregation's shut-ins. She has developed a lay grief care ministry and serves her congregation's emergencies in her pastor's absence including celebration of life services, in addition to all of her ministry with the more mature folk in her congregation. Cynthia Willis is the recipient of The Marlene Atanasoff Award for 2019. She is a 2015 graduate of The Center's Ministry of Spiritual Direction program where she now serves as both the Sacred Integration Coordinator and a presenter. As an active participant in this ministry she brings a deep sense of spirituality and compassion to her role with the students.
Cynthia serves the wider church as a Candidacy Mentor and as a member of the Conference Board of Ordained Ministry.
Pat Woolever is a retired pastor and district superintendent in the Susquehanna Conference. She is a chaplain for two clusters in the Harrisburg District and a spiritual director. She writes poetry and faithfully walks her dog.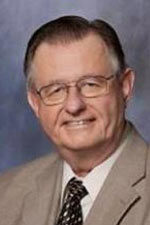 After serving several pastorates in Ohio and PA, Ed served as president of United Theological Seminary in Dayton, OH, and then served another pastorate in Central PA before retiring.
While Ed was a District Superintendent in the United Methodist Church he and others participated in founding the Center for Spiritual Formation. This turned out to be one of the most significant endeavors of the Conference and led to opportunities for expanding the awareness of the shape, depth, necessity, and substance of the Christian life and devotion.
The Ministry of Spiritual Direction can be a bold step toward effective and sustainable discipleship. Ed's own experience with spiritual direction unfolded in 1981 with the development of his first Personal Rule and subsequent opportunities to assist others in their own pathways toward Christian maturity. Spiritual Direction includes profound prayer and study, along with deeply meaningful and reciprocal relationships through a disciplined approach to spiritual growth and faith. The MSD is a sacred pursuit including the nature of spiritual direction itself and an ever expanding consciousness.